Do you ever wonder 'Is my normalcy another mom's insanity?'  It's that moment when I start to feel insecure and struggle with comparing myself to other moms about how I'm raising my kids, doing life, going to workout or not workout, and all the other comparative scenarios I can think of.
The last ten days have been CRAZY, but I love it ALL.
Some of my friends think my life is insane.
But I remember Roger (good ole Roger, our ever faithful marriage counselor for two decades!) telling me years ago, "Me Ra, you are just who you are. Your normalcy may often be another mom's insanity. What's important is that you know who you are, how you function, and what brings you fulfillment."
For example…
I started the week speaking at an event in California.  On Thursday I was back in Seattle, WA. The kids and I jumped into the new homeschool curriculum and started the school year again!
Friday we did homeschool for four hours. Then Brian did a dad's night with the kids while I went to Seattle for my grandma's 78th birthday. I took her to see Phantom of the Opera (AMAZING!). We also had dinner, stayed at my favorite spot, Inn at the Market, and then talked and giggled until 2am.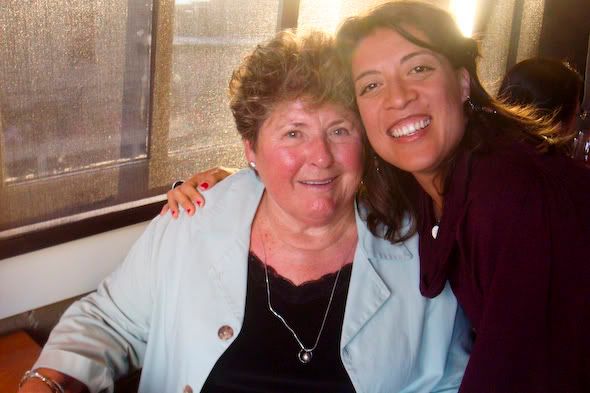 I love my grandma.
Saturday, my grandma and I walked around Pike Place Market, had lunch and then headed home.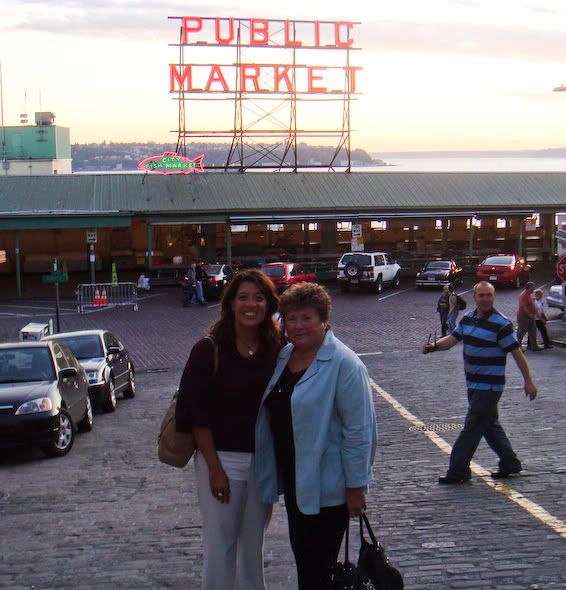 On Sunday our family went to church, gardened, swimming and had a fun candlelight dinner on the deck with the kids.
Monday morning, I hit the gym at 6:30am, breakfast for the kids, shower, and started work and school by 9am.
Sometimes I come home from a speaking trip or photo shoot and wear my pj's for a few days with my hair in a bun and call it good.  Sometimes we're on top of it and have a weekly dinner menu. 
Other times I'm thanking God for take-out. 
Some years I get my Christmas stuff put away right after New Years.  And other years, well…let's just say I'm thankful for how Valentine's Day draws a clear line in the sand.  LOL!
With homeschool, running our business, building a family travel show, and keeping the lights on…you could say it's busy around here, and yes, I need a ton of structure to keep my sanity. But here's the thing, I love structure. And even more, I LOVE our life.
I love my life.
I love the craziness and the fast pace.
I love the moments we breathe deep as a family while planting our winter seeds in the garden or harvesting our cherry tomatoes in the late summer. I love the laziness of sitting by the pool and catching up with friends or swimming like a dolphin with my kids. And I love the privilege of filming and travel while being able to meet, teach, photograph and speak to so many of you.
Part of the territory with this kind of craziness in life is to feel spread thin at times (or feel like I could do things so much better whether it be personally or with work). Sometimes I feel like I'm failing because everything around me is moving fast. This is why my garden is so important. This is why homeschooling with Brian and the kids keep me grounded. This is why green drinks with purple kale are a necessity after I get home from a trip.
Should I slow down? Sometimes yes, other times no. I have people to keep me in check when it comes to that question.
The bigger issue I face is to not buy into the lie that life is meant to be perfect…if I just work hard enough. 
Can anyone relate?
When you buy into that lie, mom's insanity hits a whole new level! Here's the saving grace of it all…when you juggle a lot, perfection doesn't get invited over for dinner as often. No room at the table.
At night I feel a deep peace inside my spirit, and I know that as long as that peace is strong and present…we are in the right place. BUT, I have to be careful not to struggle with comparing myself to other moms. The moment I start to compare, weeds sprout everywhere and choke out all my peace.
But what about you?
Do you feel like your normalcy is another mom's insanity?
If yes, is that okay with you? Do you have a deep peace at night too? Or do you feel like something needs to change in your life?
If no, is this okay with you? Do you feel content at the end of the day? Or do you find yourself yearning for something more?
It's so important to check in with ourselves and know that our life, however chaotic, crazy, insane, calm, quiet, or even routine…whatever side of the spectrum we are living on…we know this is where we are supposed to be until our next step is revealed. That's how we can stand tall in our own normalcy.
Does that make any sense? Talk to me.
xo
m